Amitabh Bachchan injured during shooting of action scene, accident on set in Hyderabad
---
Amitabh Bachchan Health Update: Bollywood megastar Amitabh Bachchan has been injured during the shooting. Through the blog, Big B has told that he is also having trouble breathing.
Bollywood's legendary actor Amitabh Bachchan has recently suffered a major injury during the shooting of his upcoming film 'Project K' in Hyderabad. As per his blog, he had met with an accident while shooting an action scene and sustained injuries to his rib cage and muscles. The actor is currently recuperating at his home in Mumbai.
The veteran actor wrote on his blog that his rib cartilage has popped and the muscle in his right rib cage is torn, causing difficulty in movement and breathing. He has undergone a CT scan at AIG Hospital in Hyderabad and has returned home for treatment. Amitabh Bachchan added that he will require a few weeks to recover and return to normalcy. Meanwhile, he has halted all work due to the injury.
Amitabh Bachchan, known for his dedication and commitment to his work, has always been enthusiastic about performing his stunts. However, his latest accident serves as a reminder that filming action scenes can be dangerous and requires utmost caution and safety measures.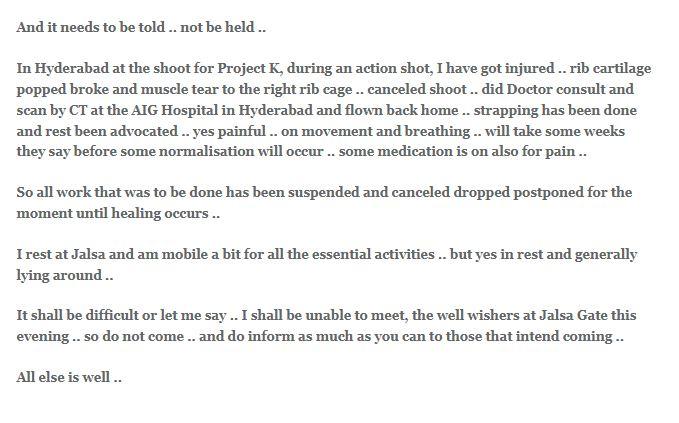 'Project K' also features Deepika Padukone and Prabhas in lead roles and is directed by Nag Ashwin. The film is slated to release on January 12 next year and is expected to be one of the year's biggest films.
We wish the superstar a speedy recovery and hope to see him back on the sets soon.